Grand Train Tour of Switzerland
REAL RAIL SWISS GRAND TOUR TRAILER
Glacier Express
Birg & Stockalper Palace
Bergun-Preda Hike
Locorama Train Museum
Real Rail Adventures: Grand Train Tour of Switzerlad, a new 60-minute documentary, is the sequel to the Telly Award-winning public television special co-produced by Small World Productions and KCTS/Seattle.  The adventures continue with another set of rides, different destinations, and more Swiss splendors. Viewers' choices are expanded with Swiss trains aplenty—new and old, big and small, breathtaking and efficient.
This time host Jeff Wilson "gets back to nature" highlighting an abundance of outdoor options. Jeff models how to take the train to scenic hikes, exhilarating bike rides, rollicing raft trips and more. Lively locals provide context, insights and diversity. Short stopovers reveal remarkable panoramas, daily traditions, and irresistible strolls in pristine villages.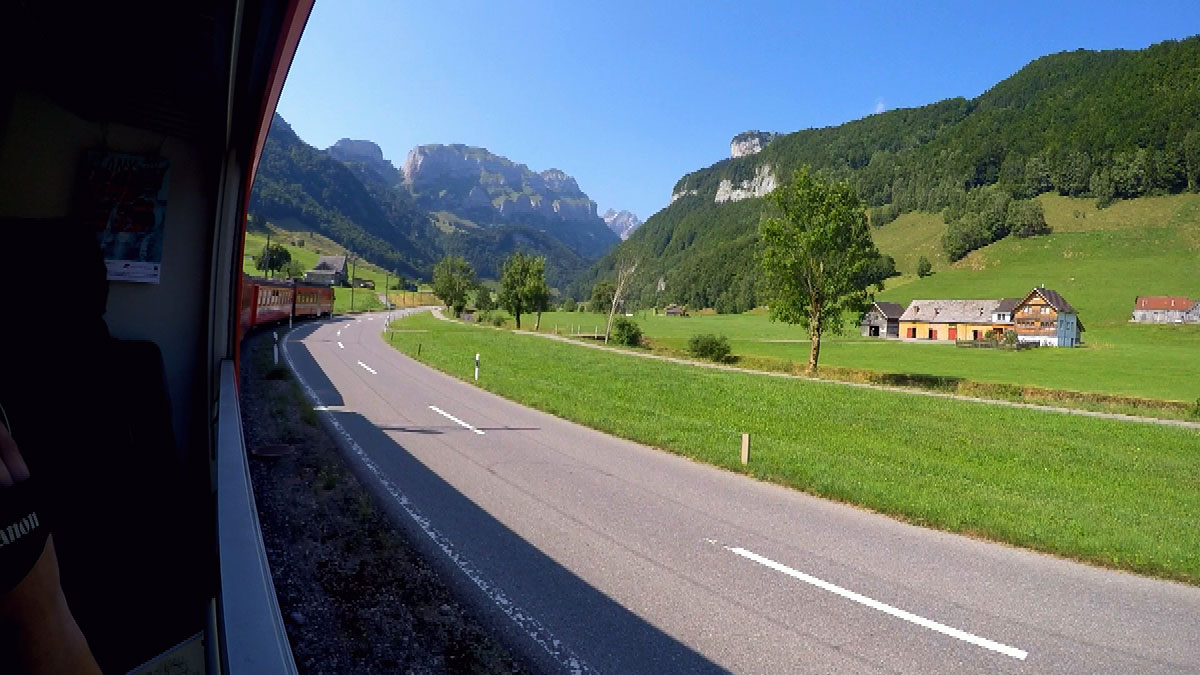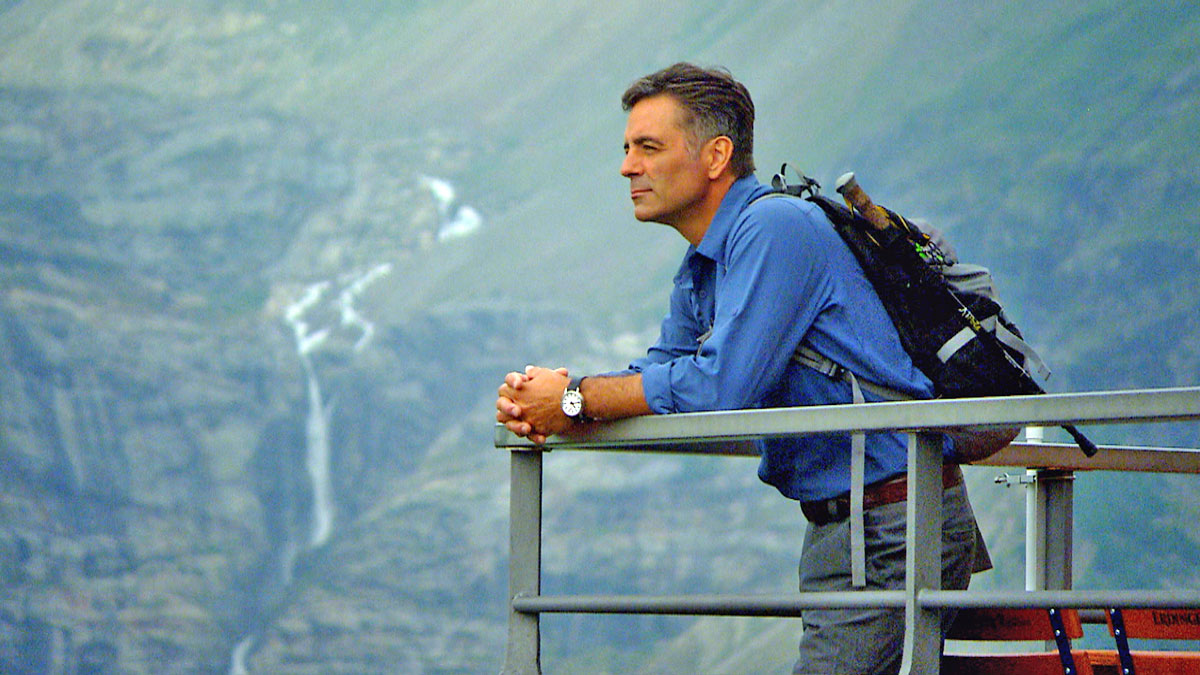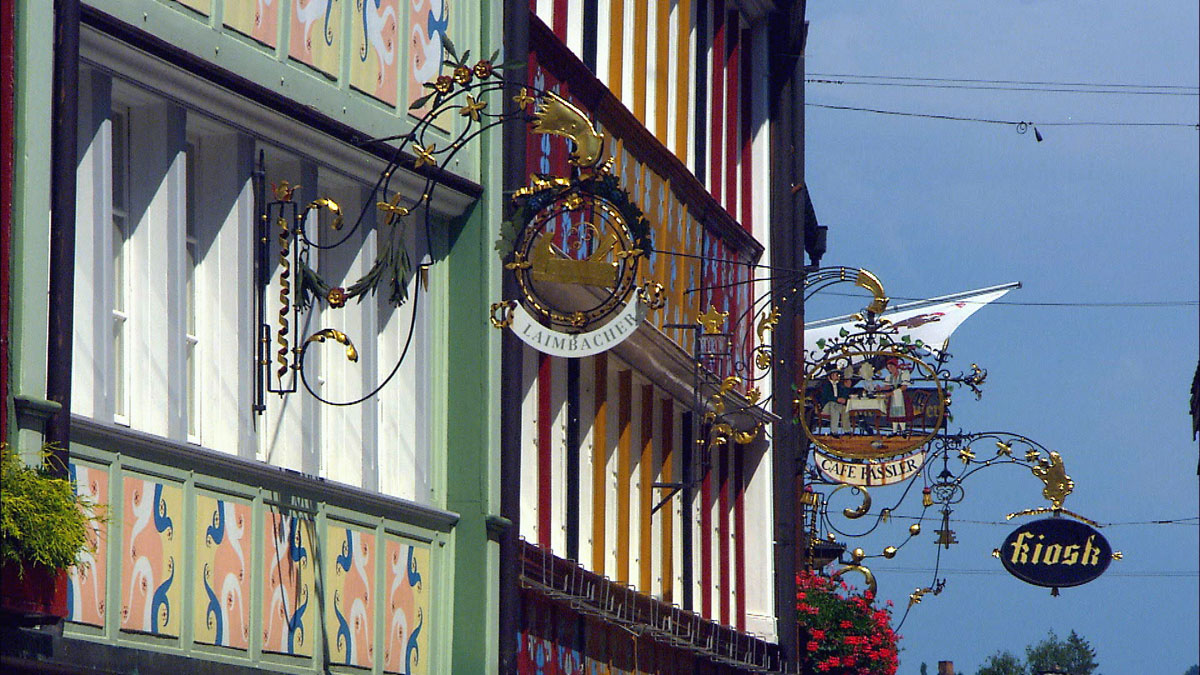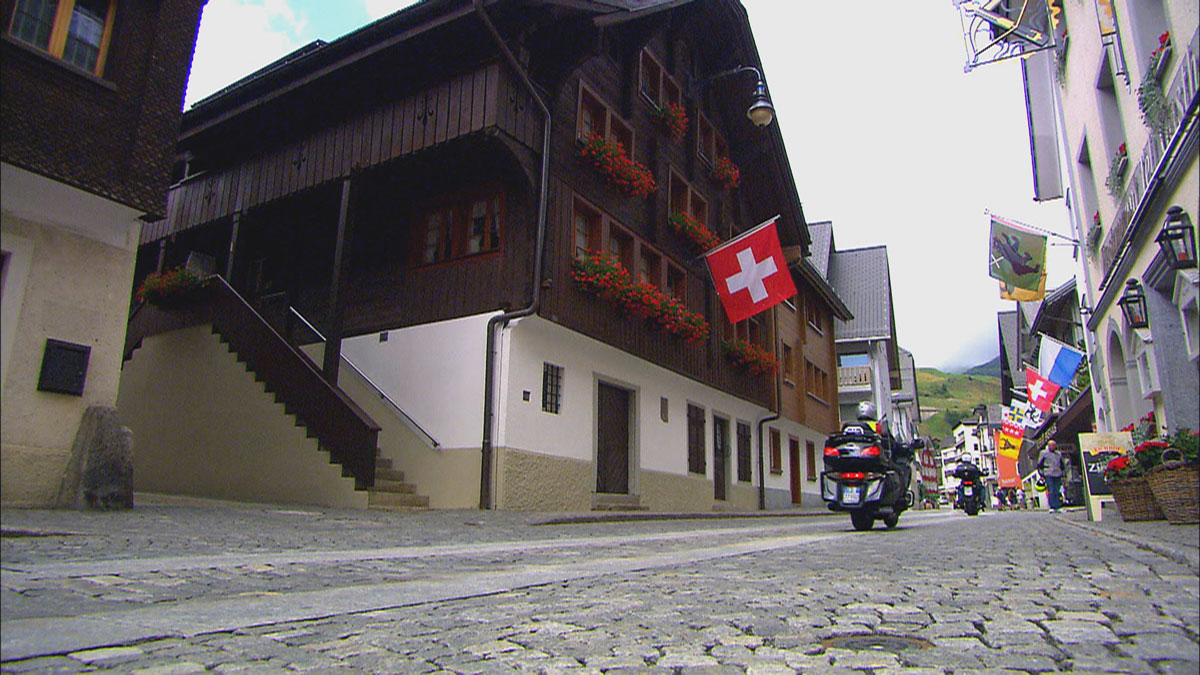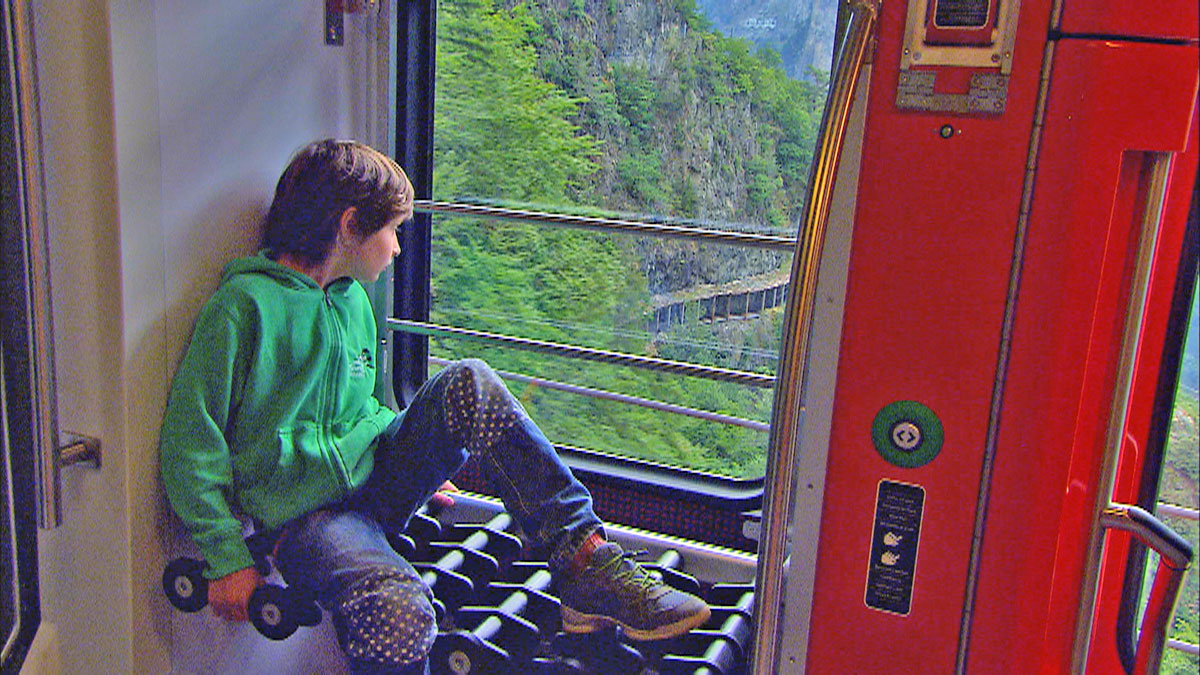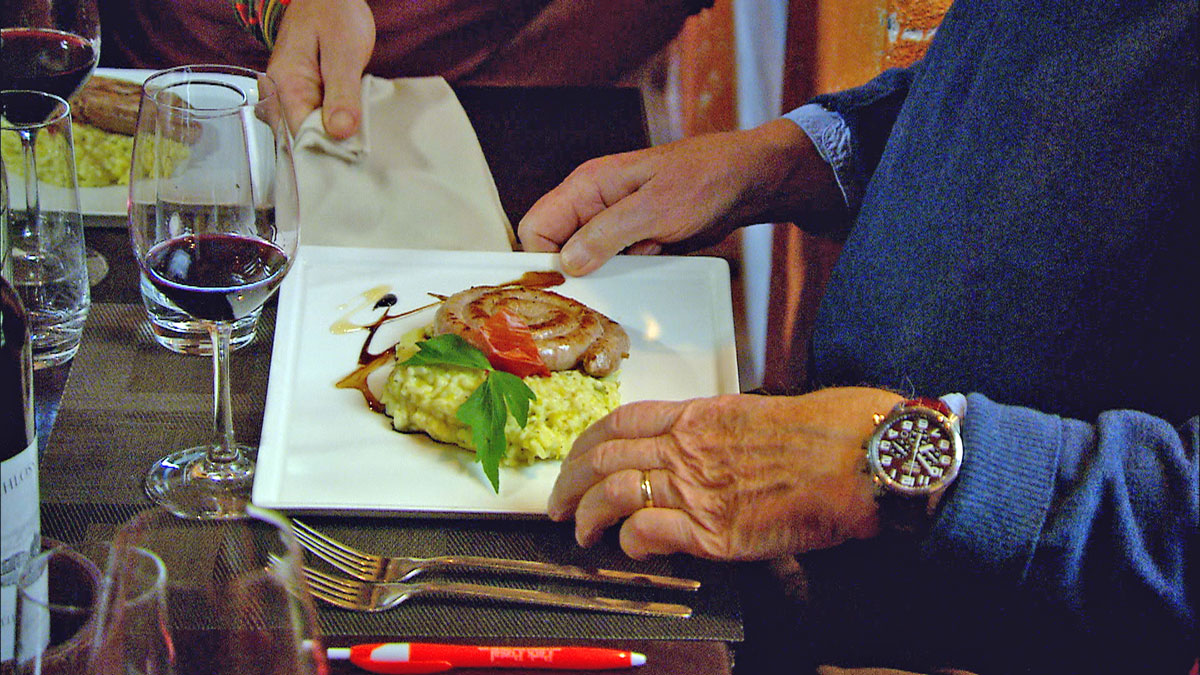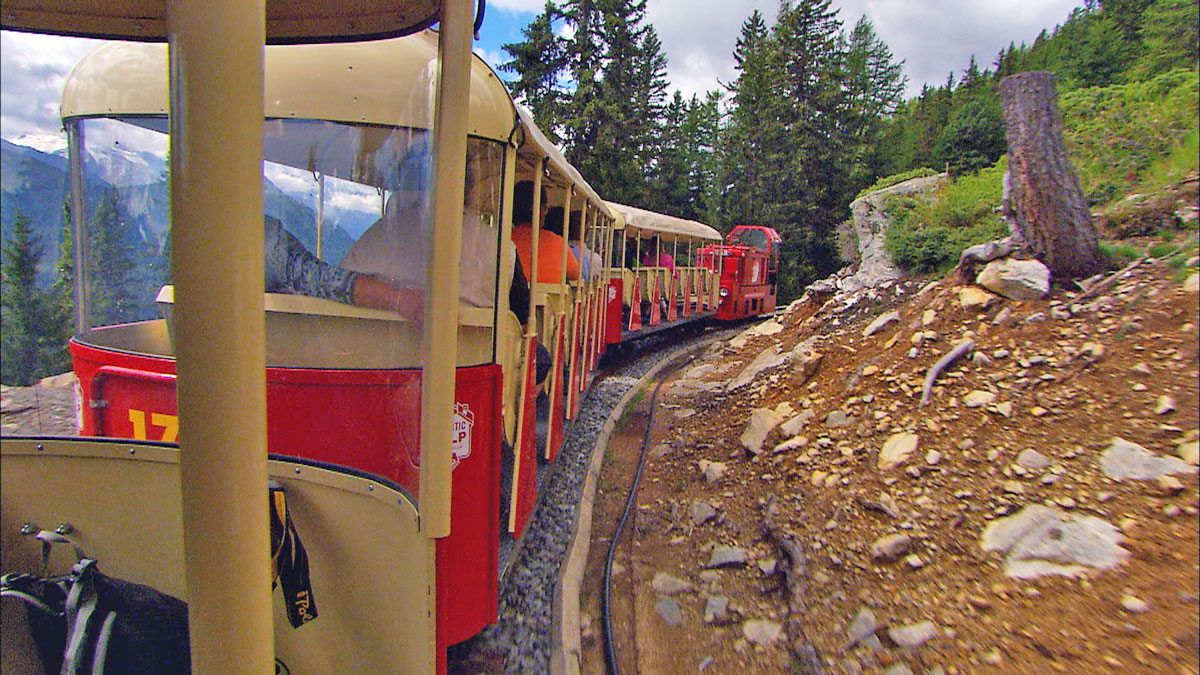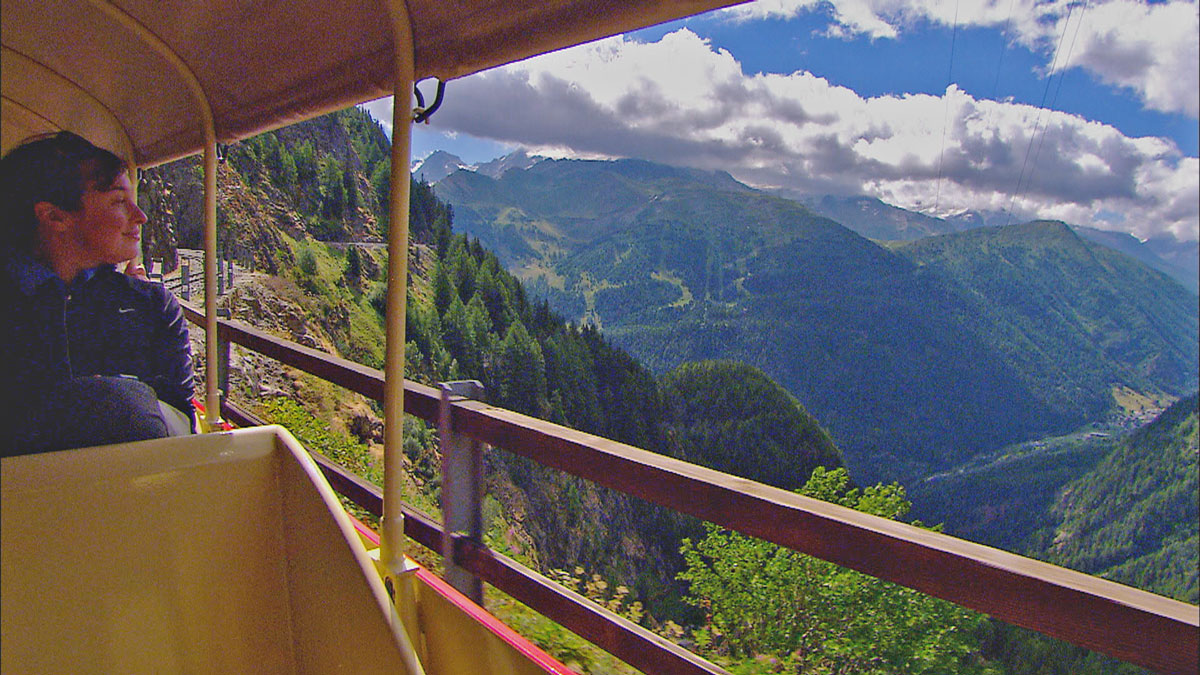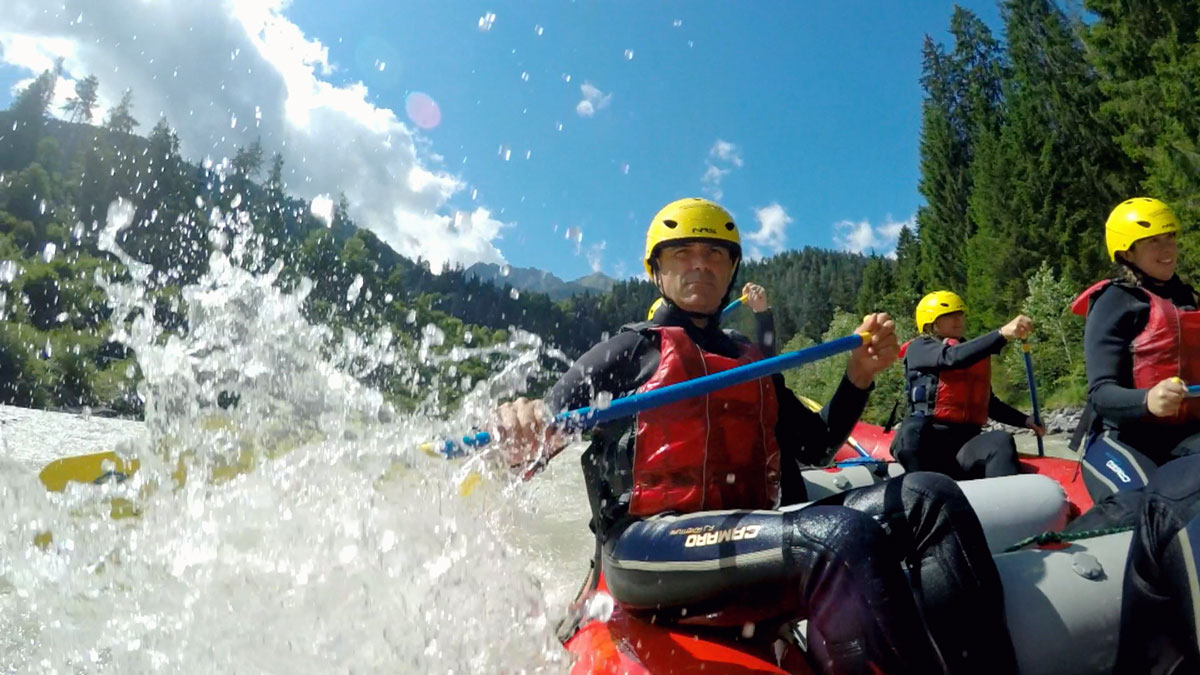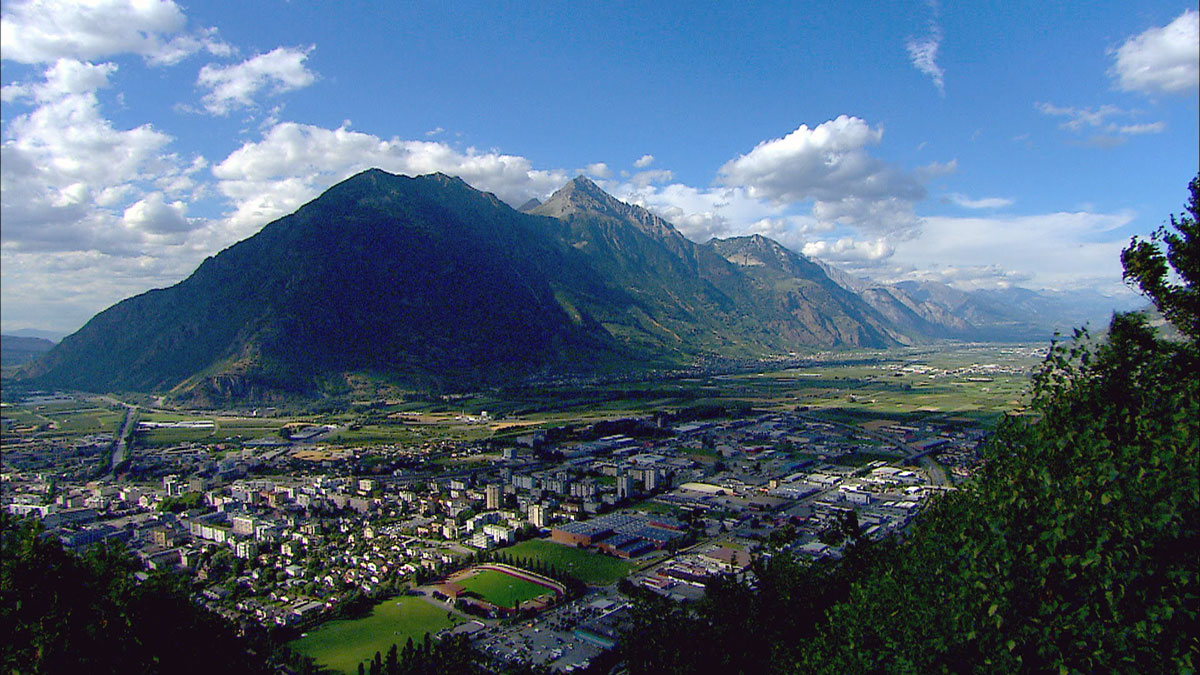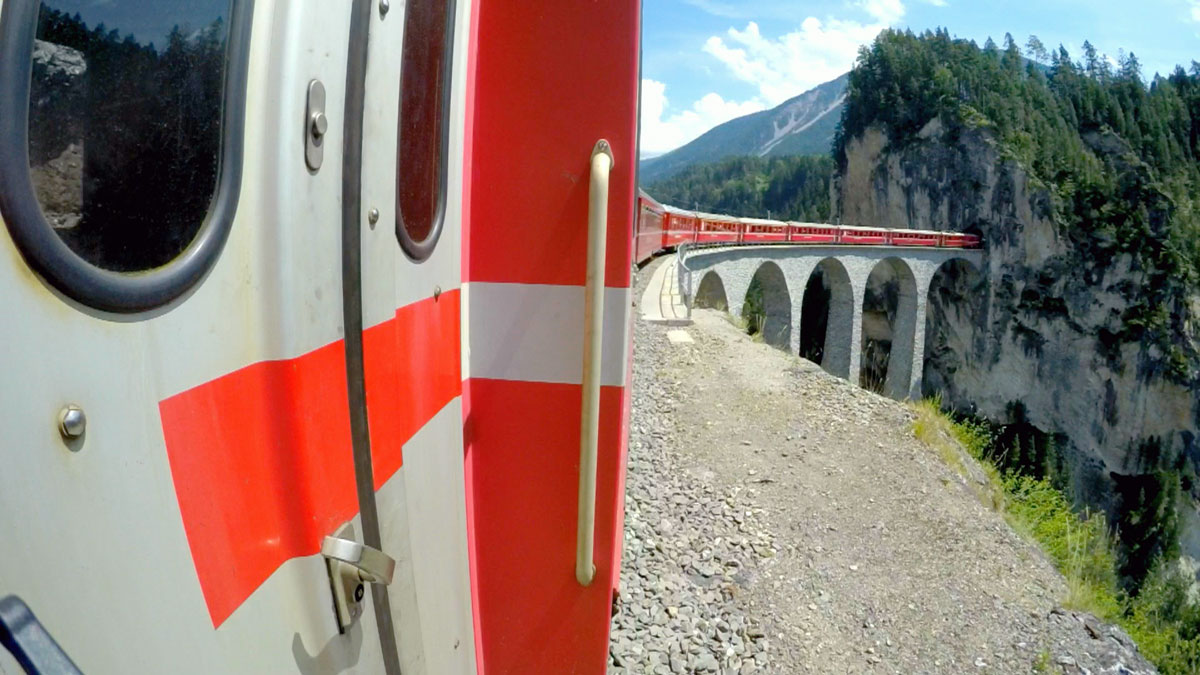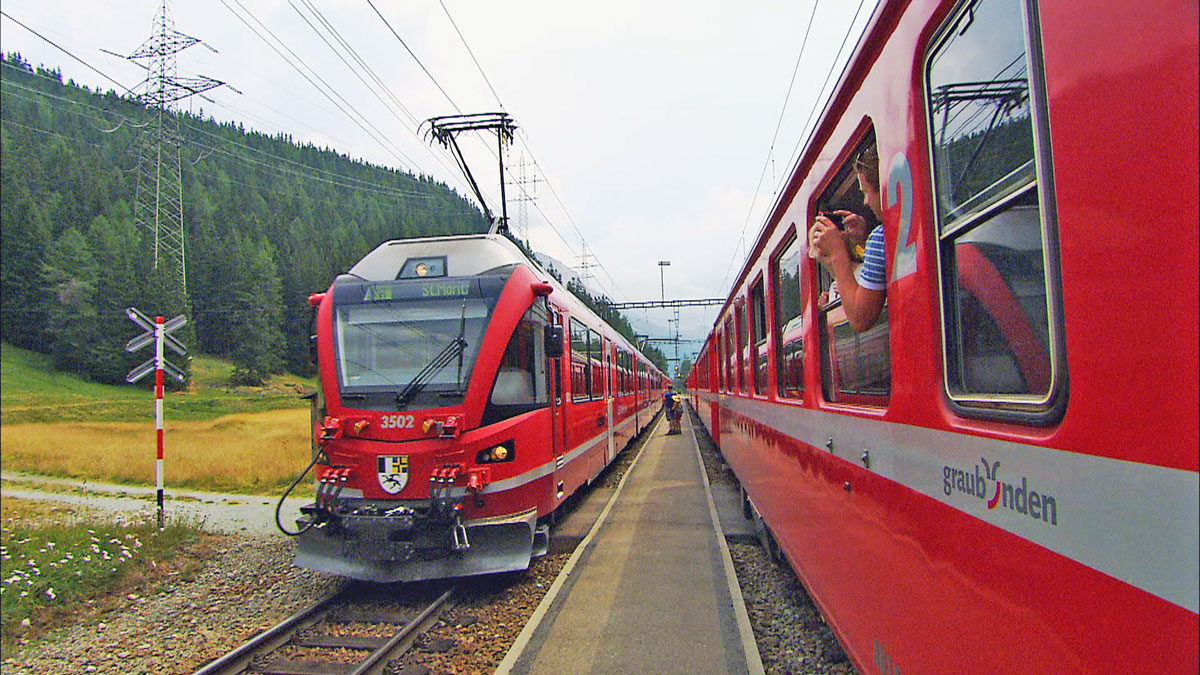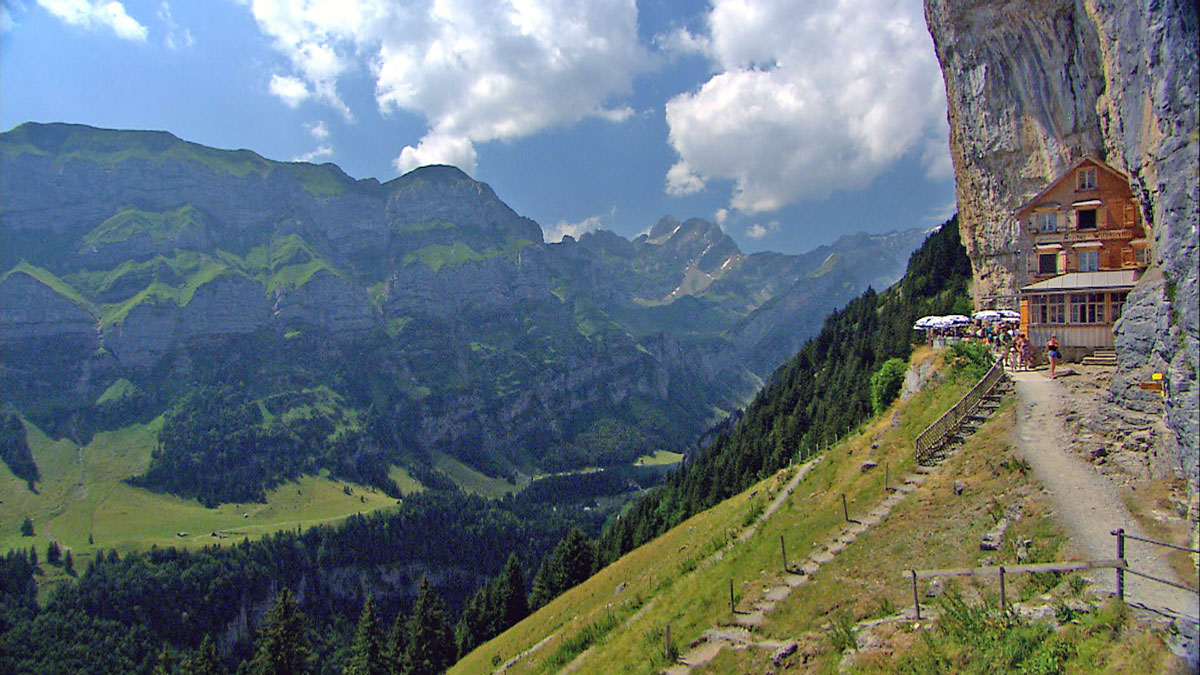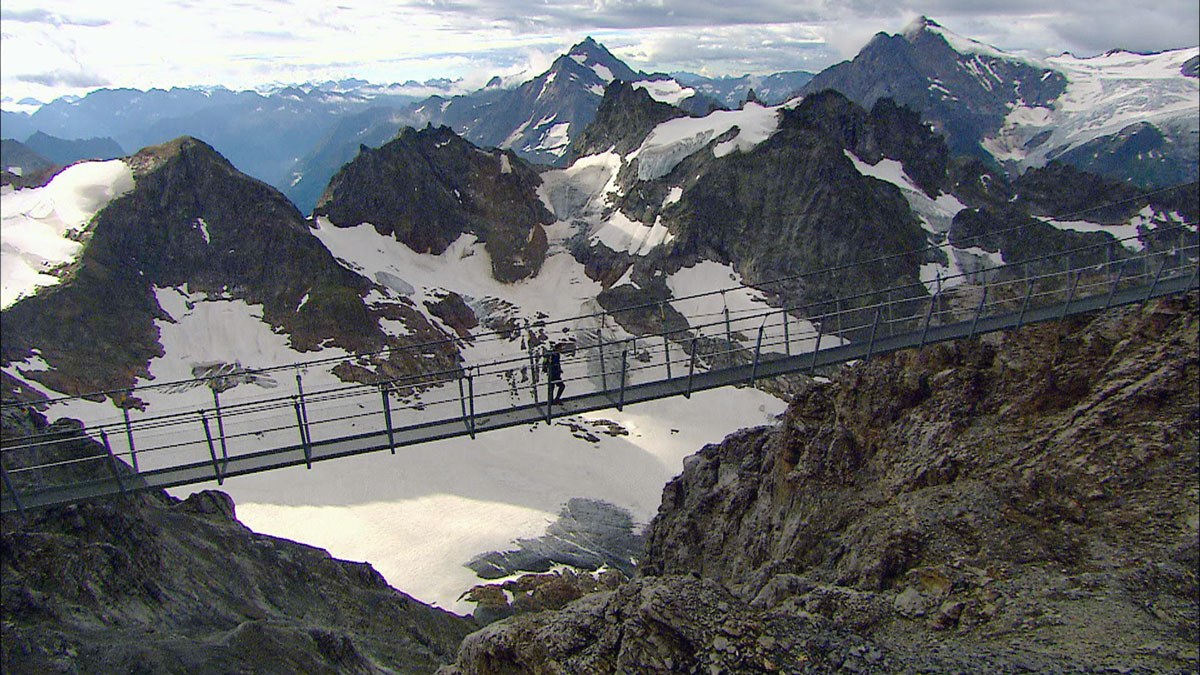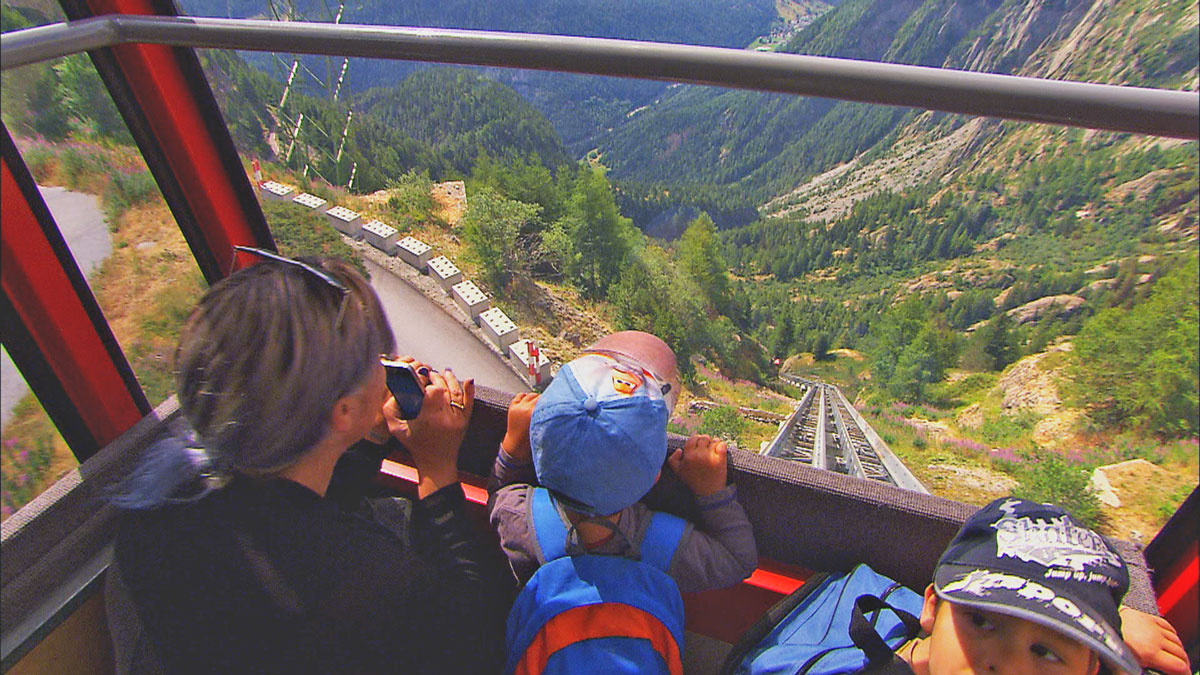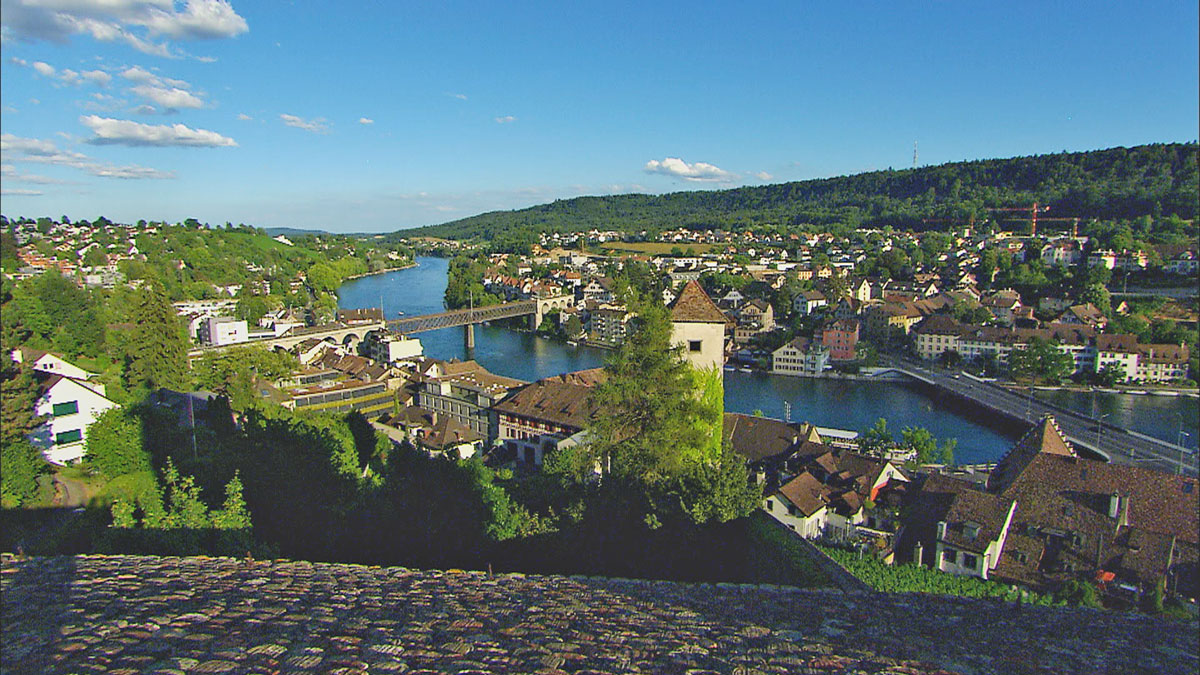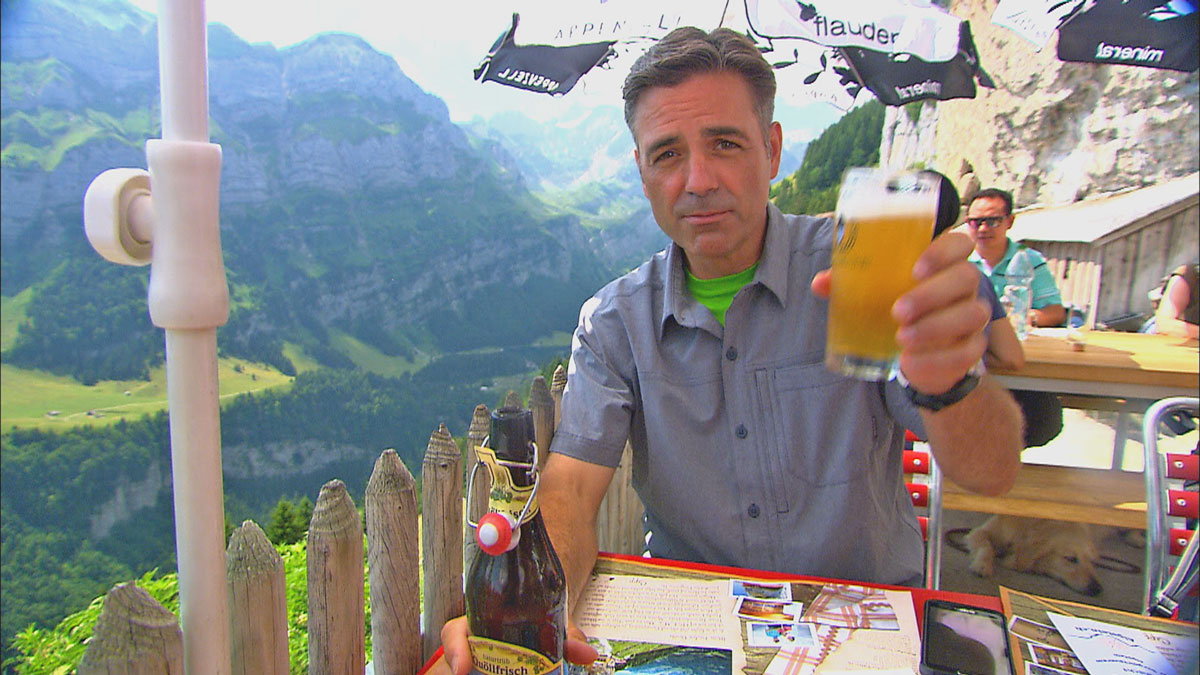 Appenzellerbahn window view
Checking the view from Alp Grum
Boy passenger on Mt. Blanc Train
Dinner at River House Hotel
View from Emosson Railway
Martigny and Rhone River Valley
Landwasser Viaduct, Bernina Line
Glacier Express trains pass
Gasthaus, Aescher, Ebenalp
Jeff crosses highest suspension bridge in Europe
View from VerticAlp Finicular
Rhein River & Schaffhausen from Munot fortress
Jeff toasts a great day at Edenalp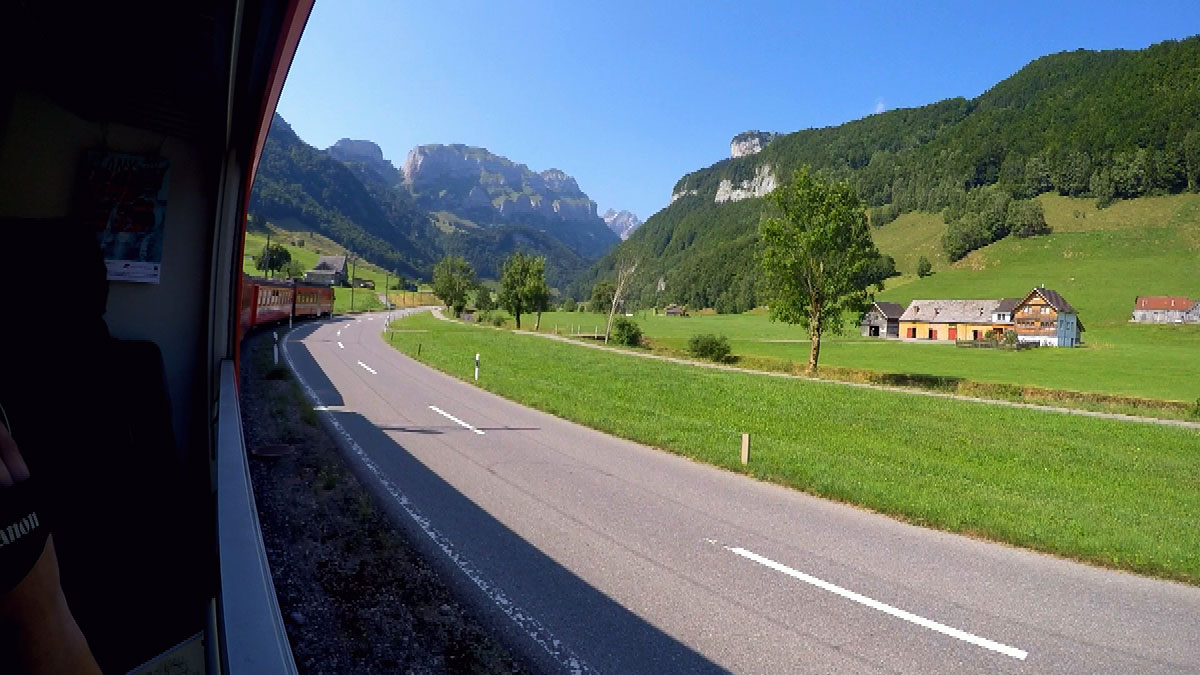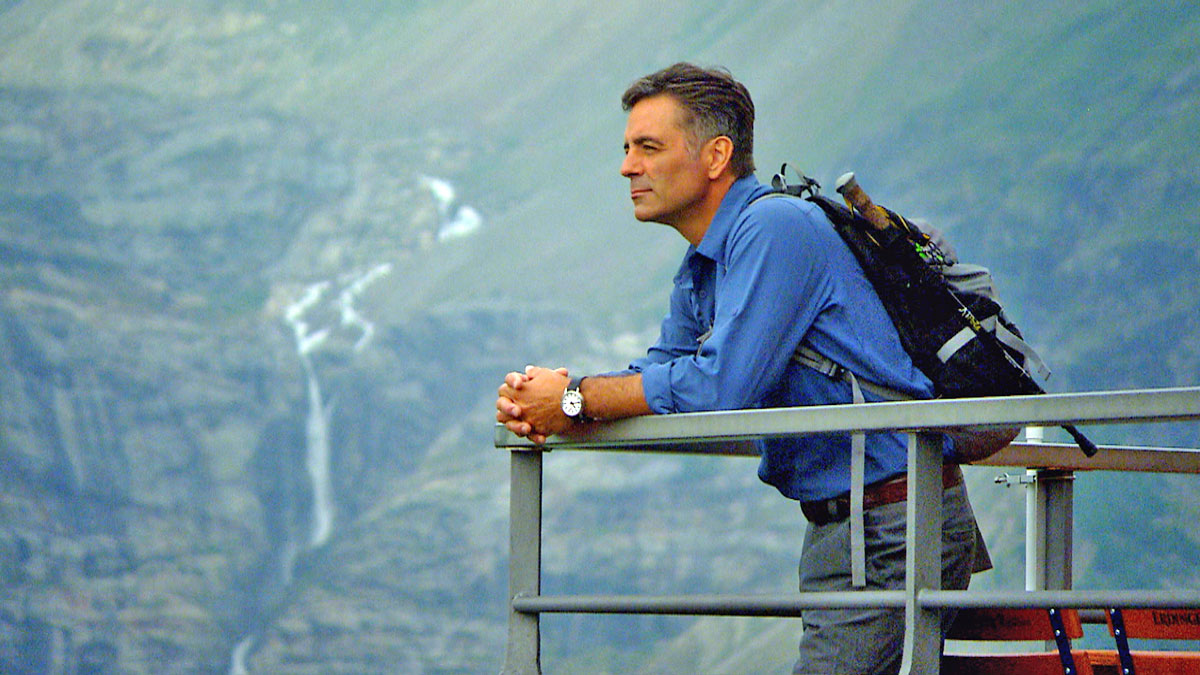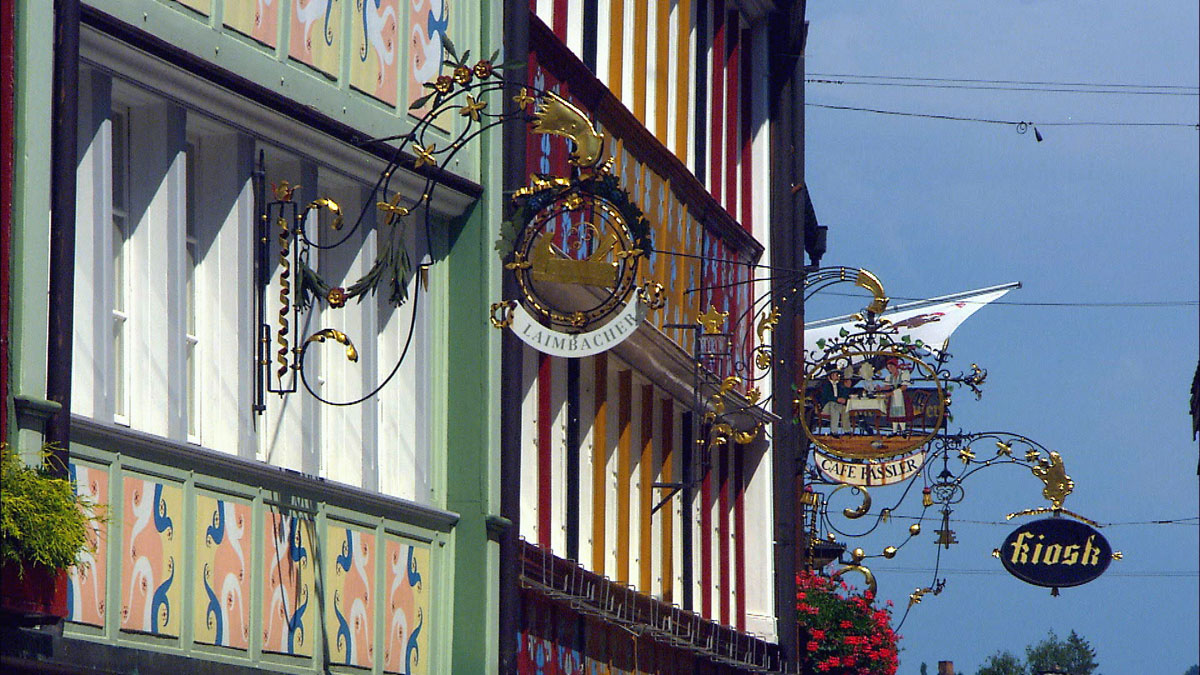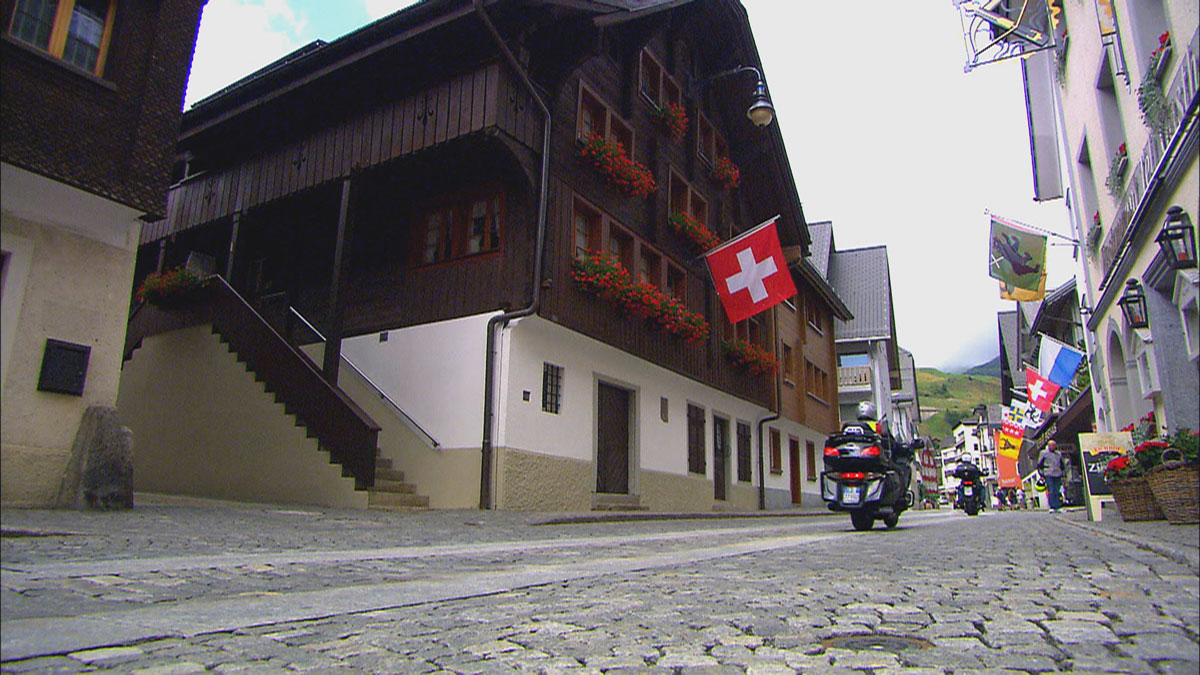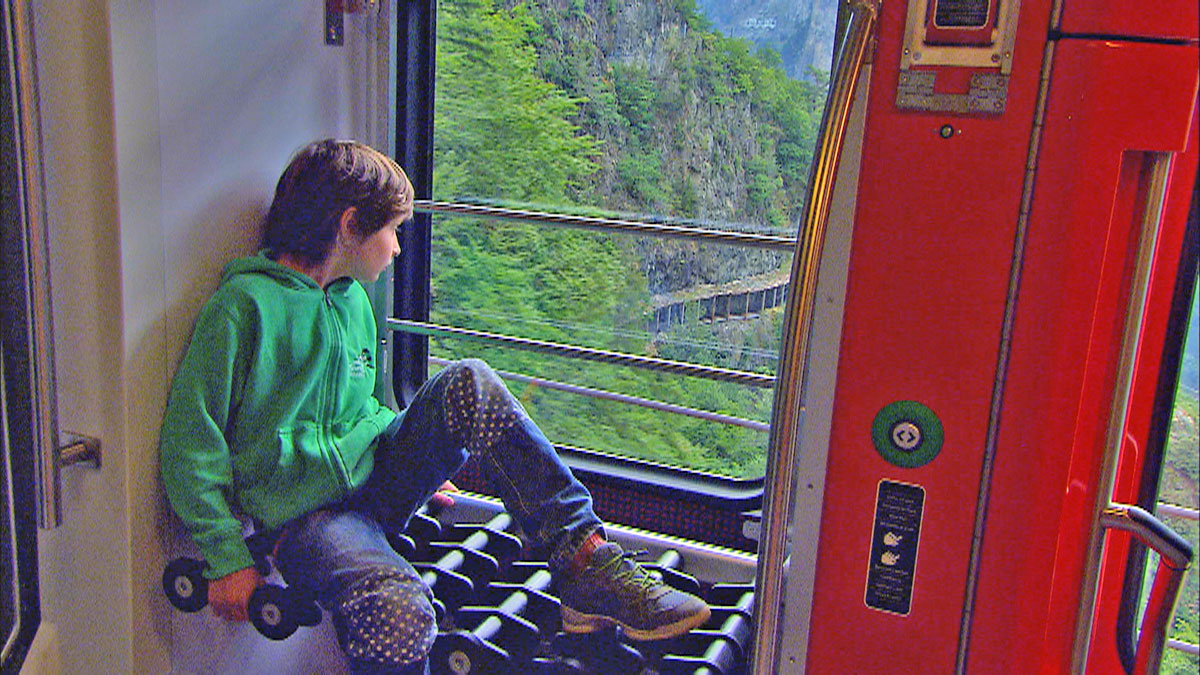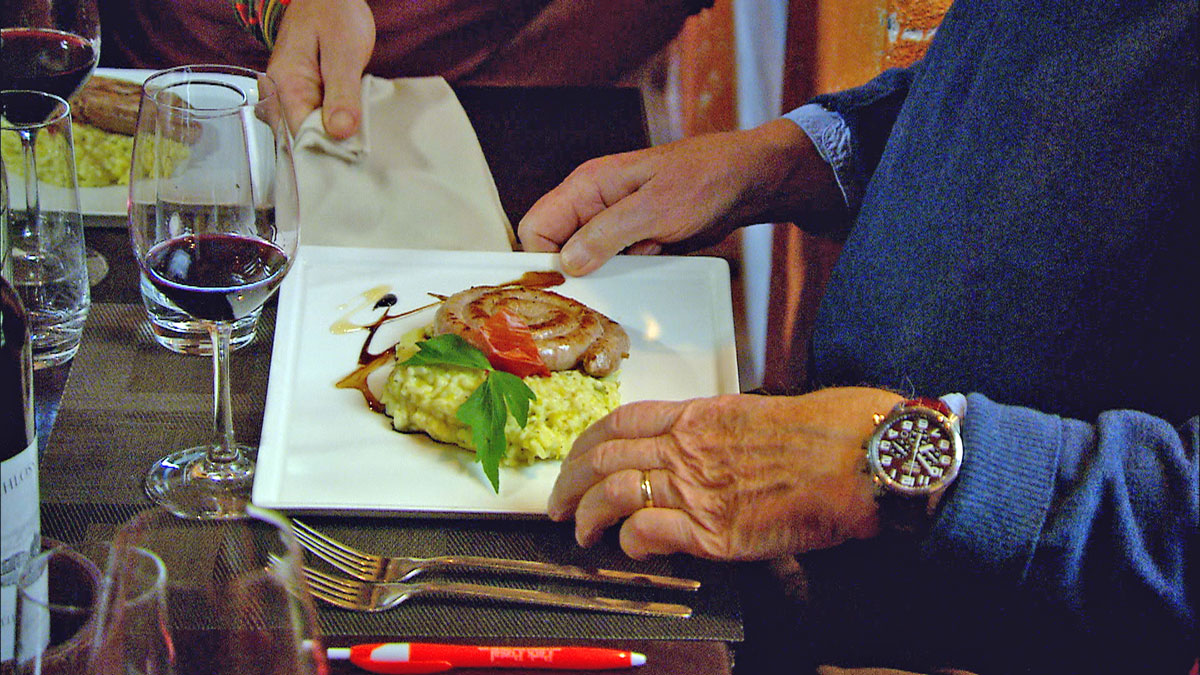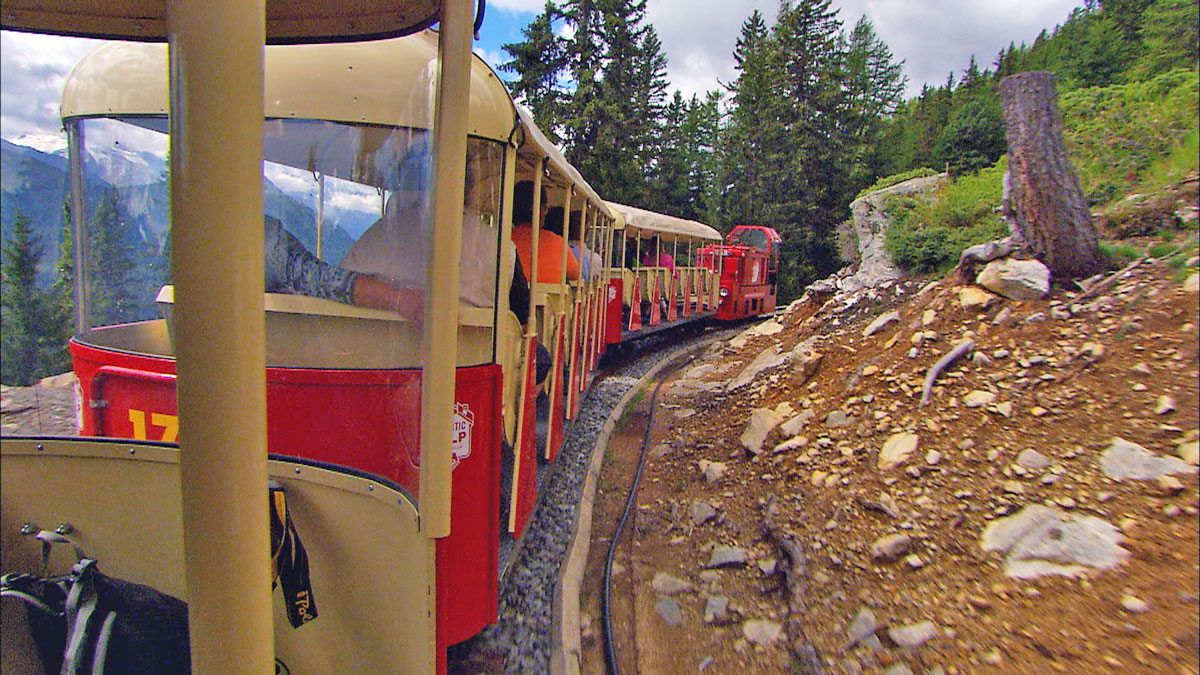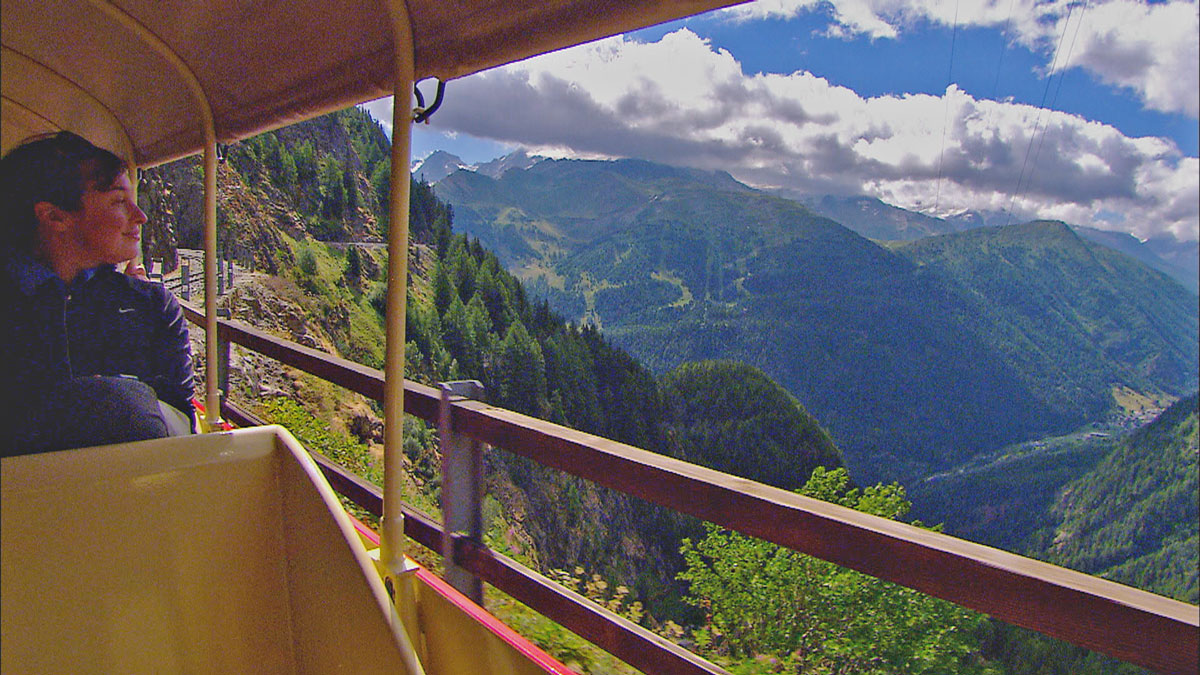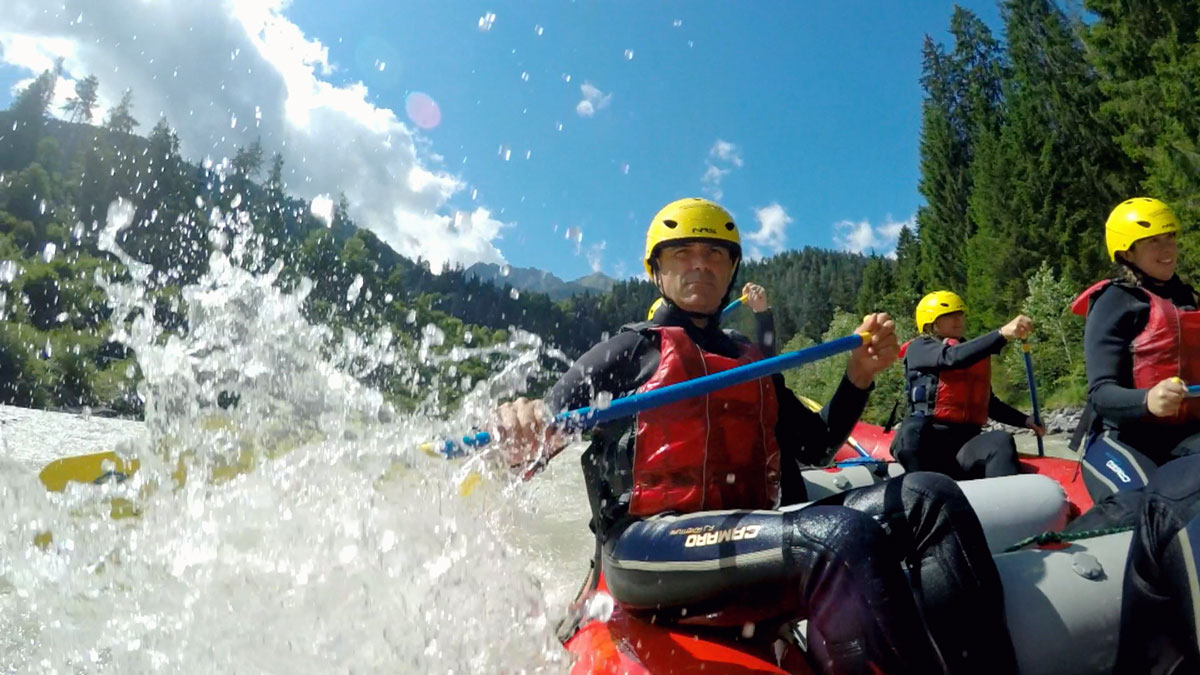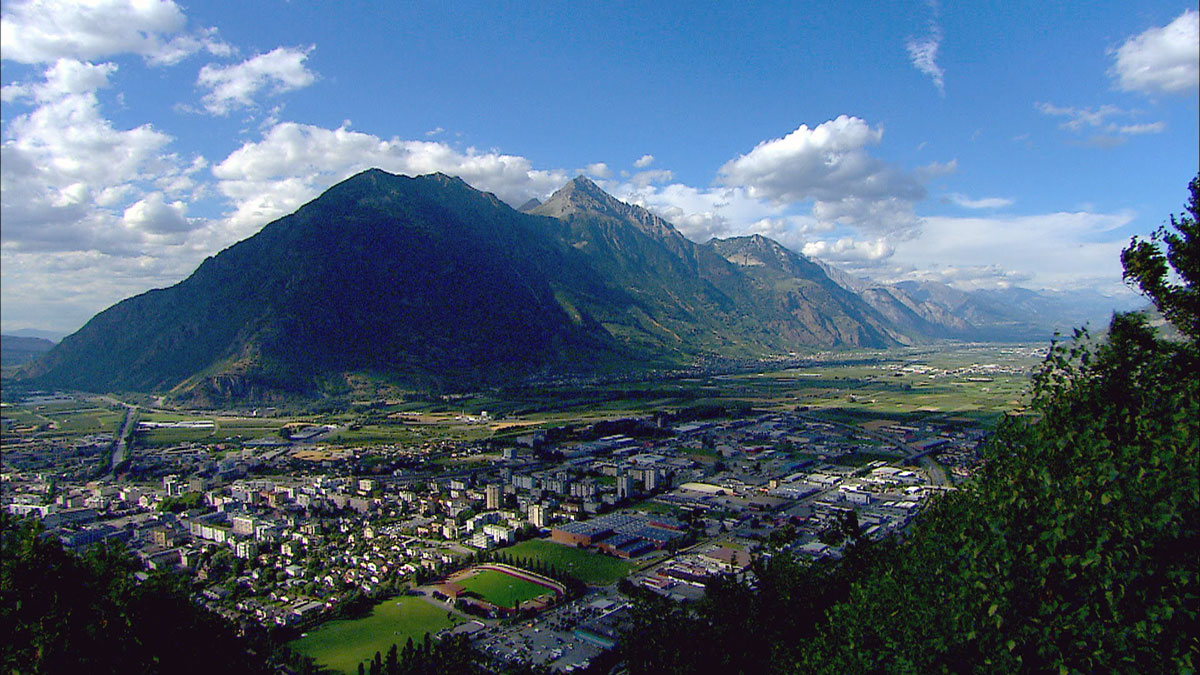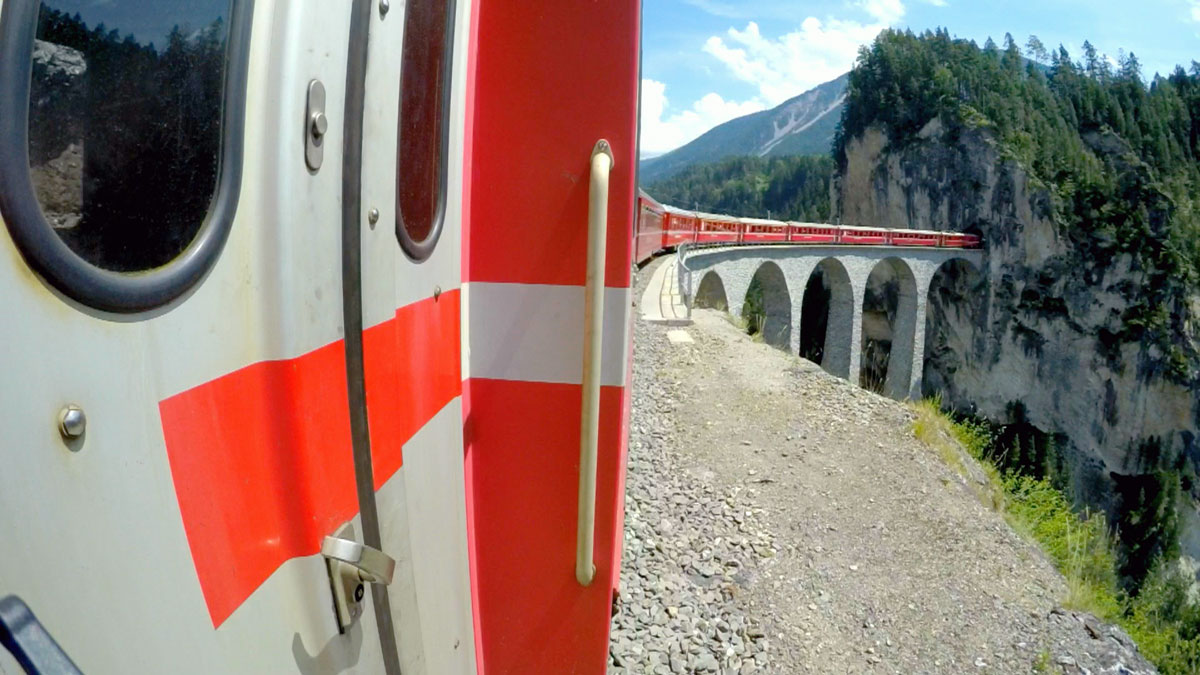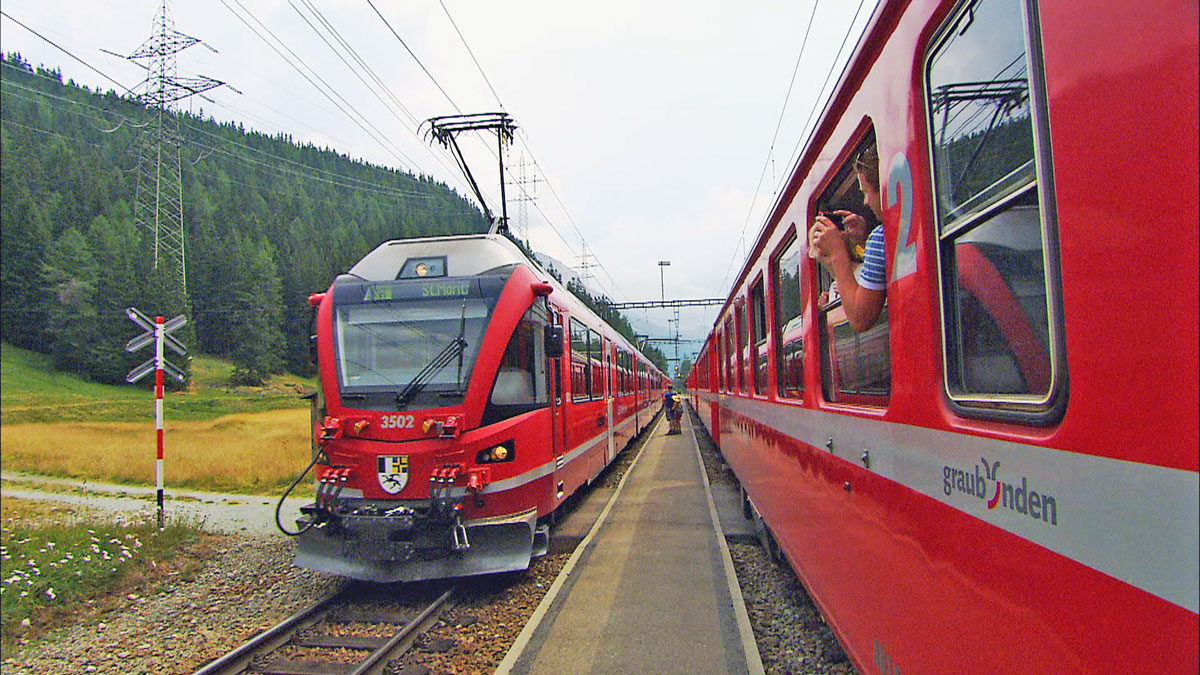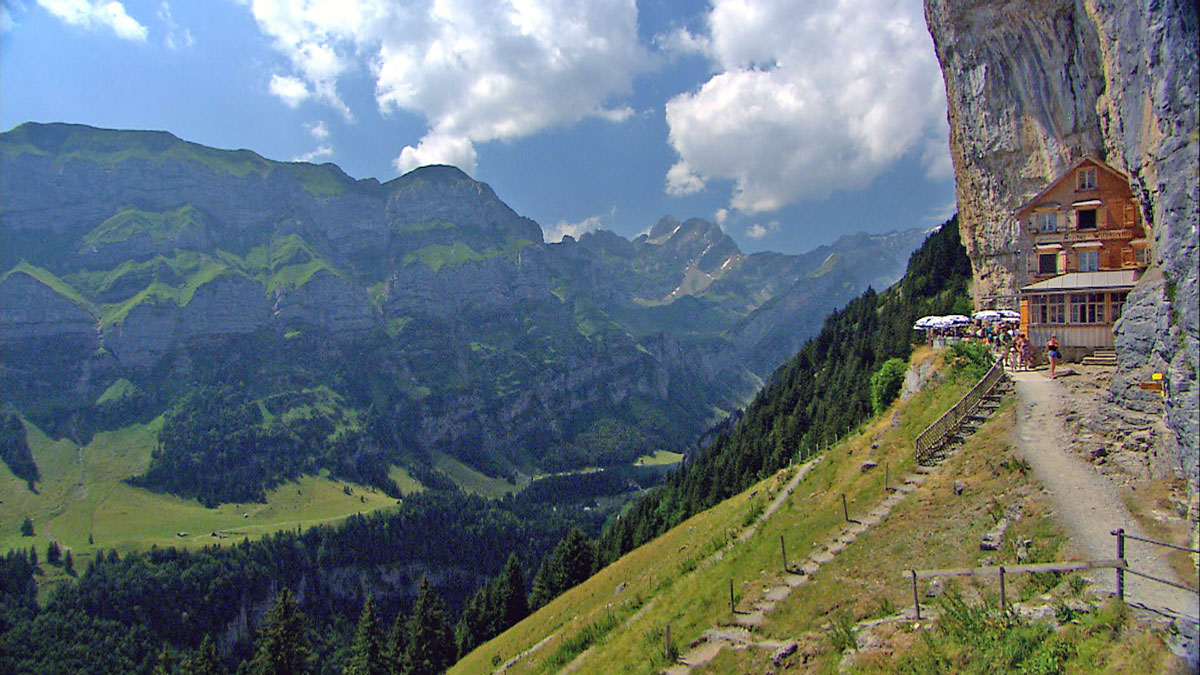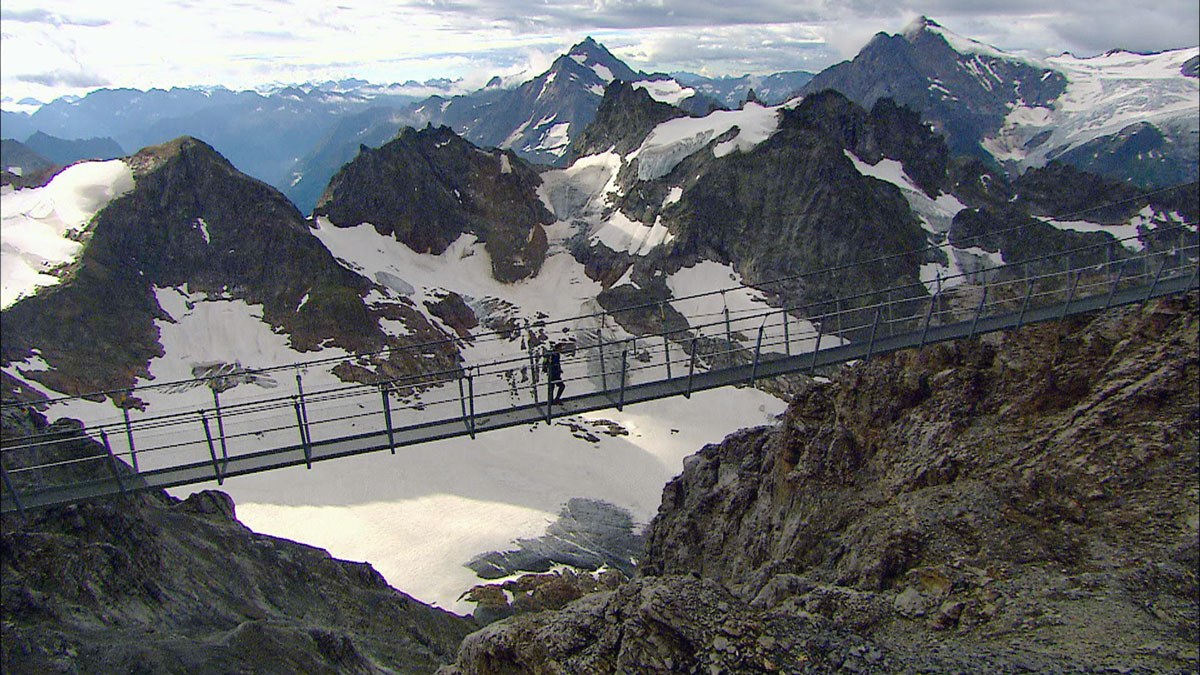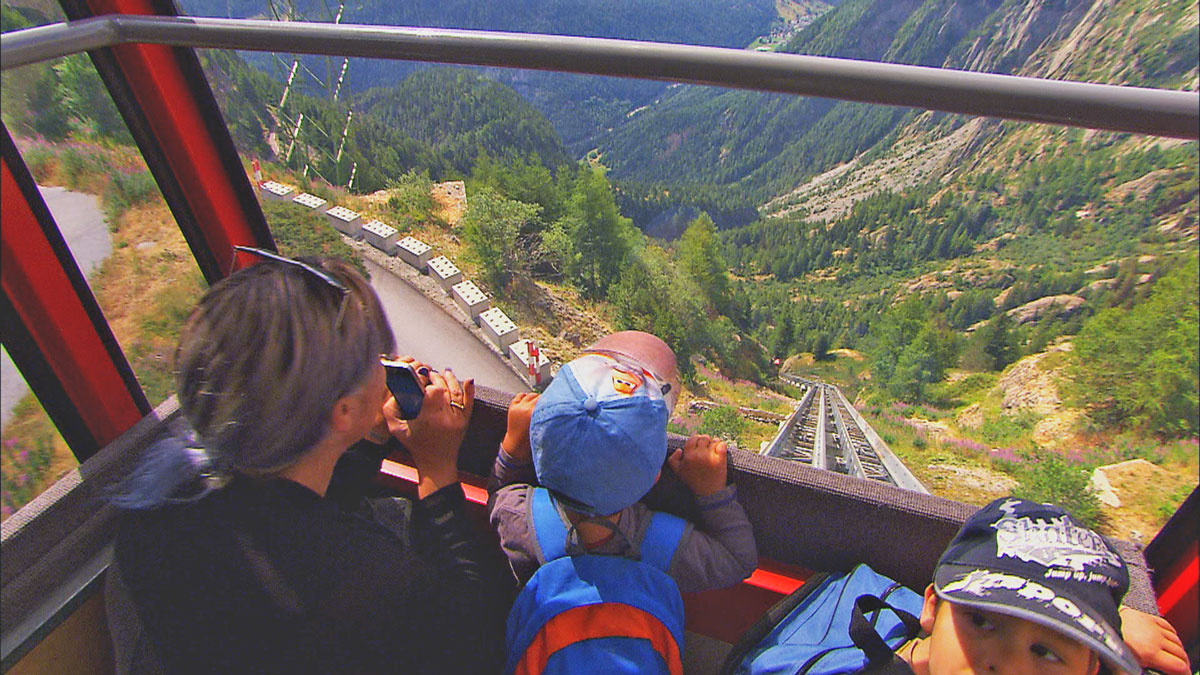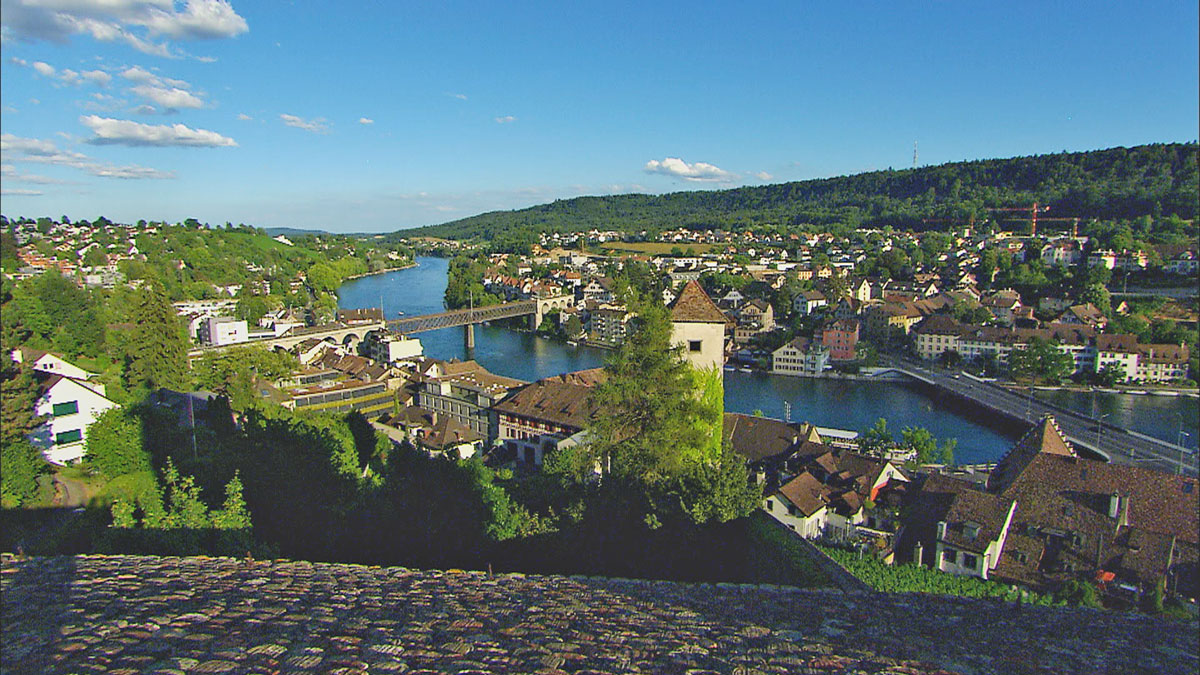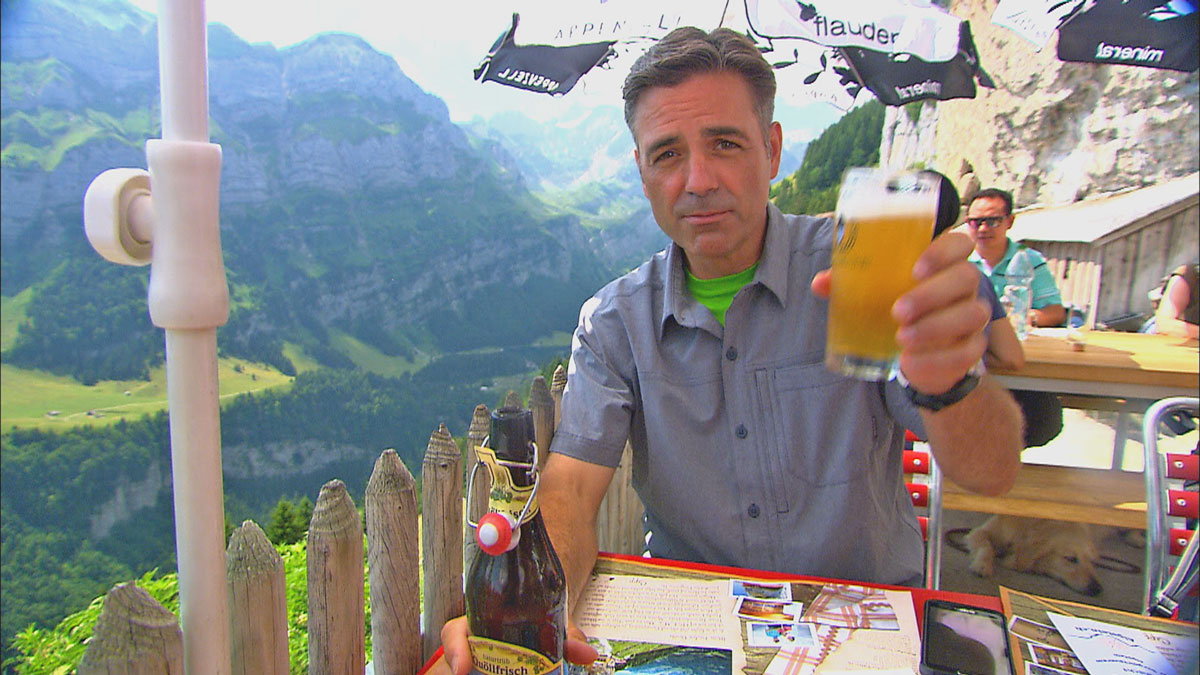 First, Jeff heads north from Zurich on the SBB line and stops in historic Schaffhausen on the Rhein River. With traditional brown-roofed houses and extravagantly painted facades, the city looks as if it's waiting for a medieval merchant to pull into town. Schaffhausen's emblem, the Munot fortress, was built nearly 500 years ago. A hike to mighty Rheinfalls, Europe's largest waterfall near Schaffhausen, and a rope park with crazy obstacles and swooping zip-lines provide heady adventure for Jeff.
Next a leisurely cruise on a Rhine River boat lands Jeff in Stein am Rhein for a wander back in time. A conclave of half-timbered houses huddled together, Stein-am-Rhein, looks like a set from a costume drama. It's Europe's best preserved medieval village.
Aboard the SBB line again, an hour train ride leads to St. Gallen and the city's Abbey Precinct, a UNESCO World Heritage site with its landmark cathedral and a baroque library. Nearby, the region of Appenzellerland transforms from rolling hills to sheer Alps. Jeff whisks up Ebenalp to Wildkirchli, three dark mountain caverns where ancient cave bears and Neanderthals once found refuge, and later Christian monks built a hermitage and chapel.
Departing St. Gallen, Jeff relaxes on board the train as the softer side of Switzerland scrolls by—gentle undulating hills, picture-perfect villages, and mellow orchards. This line is also known for engineering prowess. The Sitter Viaduct, Switzerland's highest railway bridge, is a stunning 1911 construction. Soaring arches hang 300 feet above the river.
After an elegant lunch in a vintage dining car reminiscent of the 1930's, Jeff heads for more outdoor adventures: hiking "the train experience trail" along the Bernina Line near Preda, and pulse-pounding white-water rafting on the Vorderrhein River descending through the "Swiss Grand Canyon."
Heading west through the Alps, the panoramic Glacier Express crosses steep mountain passes, navigating 91 tunnels and hundreds of bridges. A change of trains leads to Martigny. Blessed with the warm Valais sunshine and surrounded by vineyards and orchards, Martigny's history stretches back two thousand years: Celtic tribes, the Romans and Napoleon's troupes have all left traces here. The Giannada Museum provides glimpses of the past and nearby, the St. Bernard Museum serves-up heartwarming stories of Alpine rescues by the famous breed of dogs. For pure fun, Jeff joins a trainer for a walk with several resident St. Bernards and delights in petting a litter of puppies.
More outdoor adventures await as Jeff turns north again. Near the Alpine village of Engelberg, he immerses in quiet serenity, kayaking the clear glacial waters of Lake Trübsee beneath sheer mountain walls. Then Jeff boards the sleek Titlis Rotair gondola to the top and a hair-raising cliff walk over a scenic foot bridge.
HD images from Emmy Award winning photographers will sweep viewers into virtual adventures aboard the world's best rail system. Amazing trains, scenic grandeur, historic perspective and concise travel advice mesh seamlessly in Real Rail Adventures: Grand Train Tour of Switzerland.
Real Rail Adventures: Grand Train Tour of Switerland  showcases the construction marvels and visual splendors of the Swiss rail system. From world-class mainlines, to stunning scenic routes, to pioneering steam locomotives and historic cog trains, we celebrate triumphs of Swiss engineering and ingenuity. Soaring peaks and plunging valleys pose mind-boggling obstacles for trains. The Swiss have responded with astonishing trestles, bridges and tunnels.
The Grand Train Tour of Switzerland  enchants. We're packed and ready to go. Join us for a new Swiss adventure!